Assalamu'alaykum Warahmatullaahi Wabarakatuh.
We invite Brothers, Sisters, Young Adult, and Youth to join us in special gathering with Nadia Hassan, MBA this coming Saturday.
Also, we will have kids gathering with Bro. Yunus.
Please invite your family and friends as well.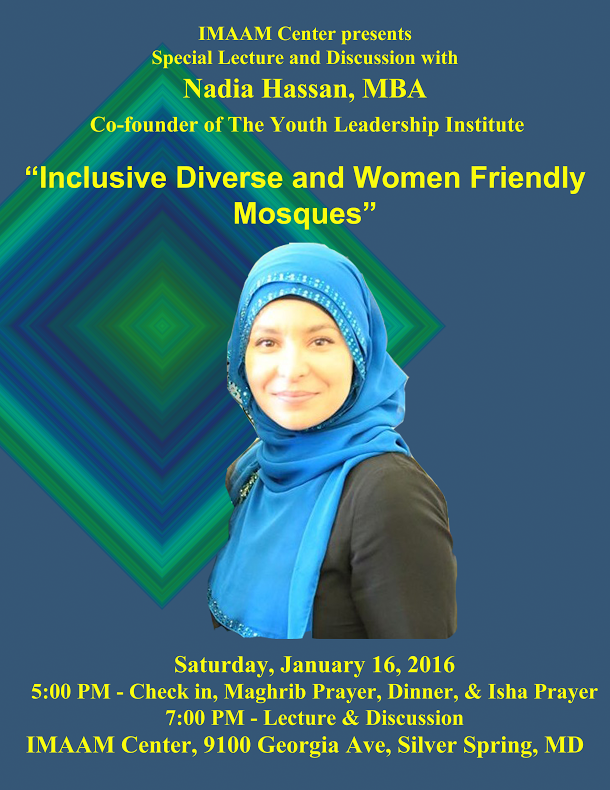 Here is Nadia Hassan's biography:
Nadia Hassan has an MBA from Bentley University's School of Business and she did her graduate thesis on the Islamic Finance and Economic Model.  She previously served as the Government and Interfaith Program Coordinator for the Islamic Society of North America (ISNA) and continues to collaborate with numerous interfaith and government coalitions on the Hill.  Prior to joining ISNA, Nadia organized the Villa Park Peace Coalition after a heinous anti-Muslim protest shocked the city of Yorba Linda and left a looming sense of fear and social disorientation amongst the residents of Orange County.  With the support of the Muslim and the interfaith community, she mobilized more than 500 people to a peaceful, silent counter-protest outside of the Villa Park City Hall chambers.
Nadia's personal experience with Islamophobia has allowed her to redirect her talents toward writing, education, public speaking, and empowering women and youth in her community.  Her activism has gained her much media attention.  In her public life, Nadia mentors Muslim youth, advocates for under-served women and victims of domestic violence and firmly speaks out against bigotry, injustice and religious intolerance.  Nadia's latest labor of love is that she has recently co-founded and launched The Youth Leadership Institute, an organization that offers comprehensive training and mentorships to high school students so that they may realize their fullest potential as major contributors to society and as the young leaders of today.
Jazakumullaah khoir.
Wassalamu'alaykum Warahmatullaahi Wabarakatuh.