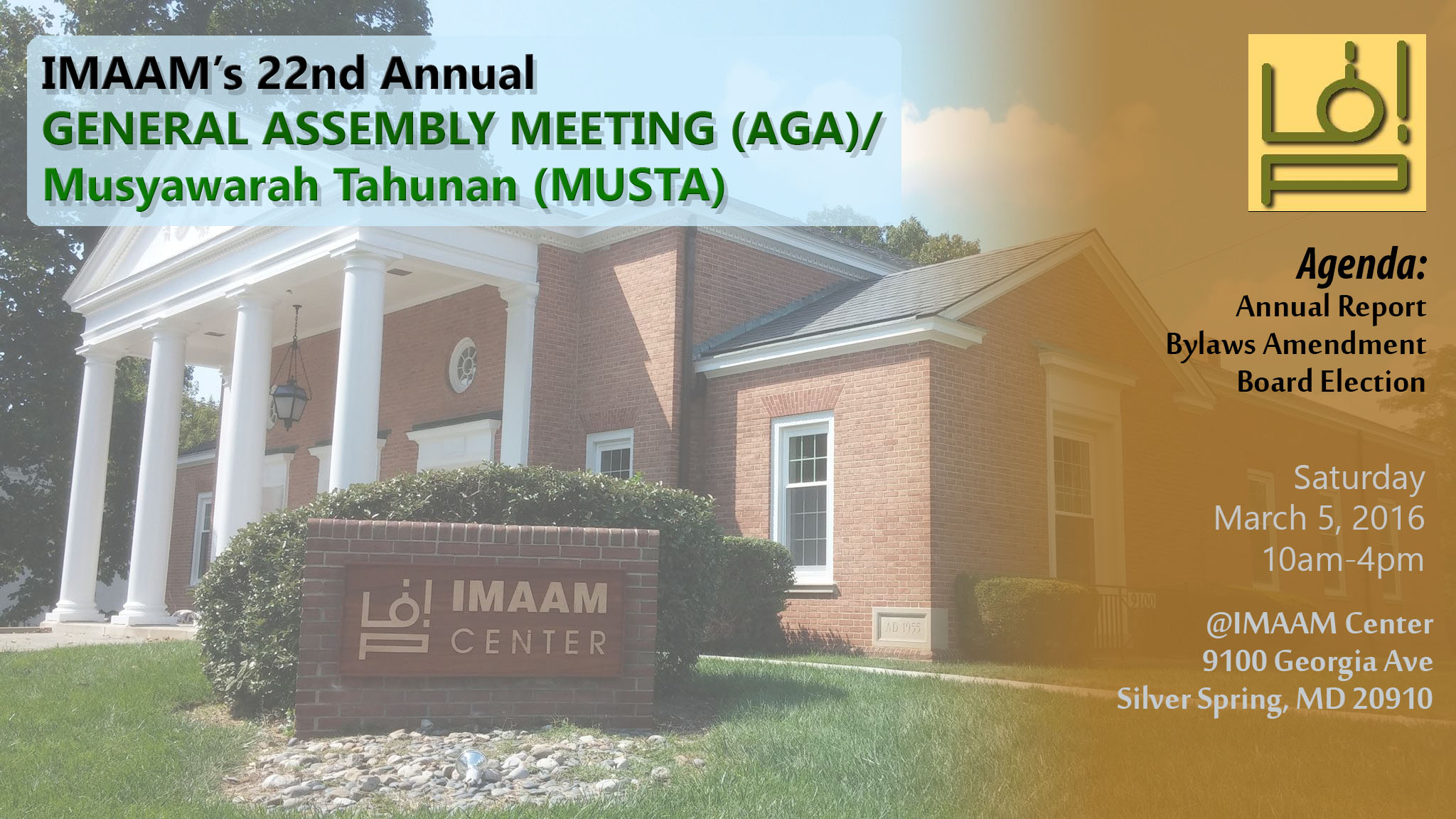 As commanded by the IMAAM ByLaws, at the beginning of each year IMAAM requires to hold an Annual General Assembly (AGA) where the purposes of the meeting are:
1. The evaluation and the approval of the annual program
2. The election of Trustees
3. The amendment of these Bylaws of IMAAM
4. The arbitration of grievances or disputes, as needed
Each year, 3 members of IMAAM Board of Trustees (BOT) will end their term. This year, however, we will need to fill more than 3 people due to some current BOT resigning their position. IMAAM BOT will soon appoint an AGA Steering Committee which consists of 3 members who will conduct the AGA including organizing the election of trustees.
We set a tentative date for the AGA to be Saturday, March 5th, 2016. Given this date, any member who would like to propose amendment of IMAAM Bylaws will have until February 11, 2016 to submit a petition. A petition proposing Bylaws amendments must be signed by at least ten (10) Members in good standing and must be submitted in writing to the Board at least 30 (thirty) days prior to the Annual General Assembly. The current version of ByLaws is attached.
If you would like to file a petition of proposing Bylaws amendments, please send an email with your proposal to any of the active BOT members listed below.
Firdaus Kadir, Chairman, fkadir@gmail.com
Nurul Fatiyah, Regular BOT, nfatiyah27@gmail.com
Arif Mustofa, Regular BOT, a.mustofa@gmail.com
Andri Antoni, Regular BOT, aantoni4@yahoo.com
Amang Sukasih, President, asukasih@gmail.com
Bambang Achirudin, Vice President, bambangachirudin@gmail.com
Waty Yirka, Treasurer, waty1955@gmail.com
Varga Syahroni (resigned)
Syafrin Setiawan (resigned)
We will send more announcements regarding AGA and AGA Steering Committee soon.
Wassalamualaikum warahmatullahi wabarakatuh.
On behalf of IMAAM BOT,
Amang Sukasih